Gray Pinstripe Vest with petrol tattoo print
Gilet grigio doppio petto in fresco di lana con stampa Tattoo realizzata a mano color petrolio.
Interamente realizzato a Firenze. 

Taglia modella Ita 42 / Eu 38 -  guida alla taglia 
SPEDIZIONI E RESI
Disponibile su ordinazione dalla tg italiana 38 alla tg 50 in 2 settimane dalla conferma dell'ordine.  Il costo della spedizione viene calcolato in base a peso, misura e destinazione del capo.

Gray pinstripe double breasted vest in pure wool with petrol hand tattoo print.

Entirely handmade in Florence.

Model size Italian 42 / European 38

Available in made to order from italian size 38 to 50 in 2 weeks from order confirmation.
The shipping cost depends on weight, dimensions and country of delivery.
Vendor: ANNAGIULIA FIRENZE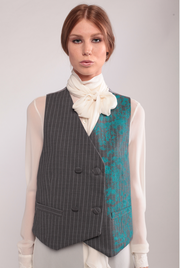 Gray Pinstripe Vest with petrol tattoo print